The Milton Bradley Show Has Been Canceled in Chicago

Poor "Misunderstood" Milton Bradley
Once upon a time, there was a baseball player named Milton.  Poor little Milton just couldn't seem to get along with the other ball players. Wherever he played, trouble just seemed to follow.
Milty tried to fit in, playing on seven different teams over ten seasons in an effort to find a place where people would just "Let Milton be Milton".
"I'm the most simple, basic player you've got going," little Milty would say. "I go about my business and you wouldn't even know I'm there. I'll observe first before really speaking out and opening up until I know people. I'm honest and loyal and I love to compete and win."
Other people would hear Milton talking and say "That's a Bunch of Bull****!"
(One of those would be manager Lou Pinella, who called Bradley a "Piece of s***" before sending him home early during a game in June of 2008.)
Each new team would be a new opportunity for Milton: "My whole life all I tried to do was fit in places…. I don't feel like everybody is against me anymore". "I've really moved forward…. the past is the past. I'm not interested in rehashing old news."
A few former teammates would say, "Milton is great, he's just a talented and misunderstood young man."  His old teammate Frank Thomas said " Cubs fans would love him, he's one of the best hitters I've ever seen."
Just goes to show: never trust the White Sox.
And never, ever, let Milton play on your baseball team.
The Cubs learned the hard way.  Now Milton Bradley has been traded to another new team far, far away.
The End.
Milton Goes About His Business
Milton Bradley's Angriest Cubs Moments
Ah, there are so many angry, angry memories from Milton Bradley's summer of discontent with the Cubs in 2008. For Bradley though, the trouble didn't take long to start.
April 16, 2008 – It was Milton Bradley's first at bat in Wrigley Field as a member of the Chicago Cubs.  The Wrigley Field crowd gave him a warm standing ovation to welcome their new free agent acquisition to town. Bradley responds by striking out looking, arguing the third strike, getting ejected and then subsequently suspended. Meet you new player Cubs fans.
This was our first glimpse into the mind of Bradley.  His first reaction was to claim that the umps were out to get him.  His second was to fight the suspension.  This was despite the fact that he was injured and sitting on the Cubs bench.  Instead of just taking his suspension while it would have done the team no harm, he fought the league and was suspended after his hearing, thus robbing the Cubs lineup of a starter when they were actually counting on him.  Bradley had put himself in front of his team.
At this point, some fans, myself included, were still defending Milton Bradley.  The umps really were out to get him we said.  It may have been true, but it turns out there may have been perfectly good reasons they were out to get him, as we would begin to see over the course of the season.
April 22, 2009 – The fans who never wanted Milton as a Cub in the first place are ready to take it out on him.  Bradley doesn't run out a ground ball to first and promptly gets his first taste of boos from Wrigley Field.
April 23, 2009 – Asked how his injured groin feels after game, Milton says, "I feel like 30 million bucks" before walking away from reporters.
May 24, 2009 – While speaking to the Chicago Tribune, Bradley again asserts that all the umpires are out to get him: "[the umpires are thinking] We're going to get him any time we can…. Let's try to ruin him".
June 12, 2009 – During a game against the Twins, Milton famously throws a ball into the bleachers after the second out, allowing a run to score. Afterwords, his only response to reporters is "Sue me".
June 26, 2009 – For a guy who claims you'll never know he's there and just wants to be left alone to play, Bradley keeps finding a way to say stupid things to reporters. This time Milton says he feels "afloat on an island" because even though his teammates "say all the right things, it's just b.s."
That was just before the game though. During the game, Bradley popped out in the sixth to kill yet another rally, then proceeded to throw a tantrum in the dugout, throwing his helmet and attacking the Gatorade cooler.  Lou Pinella, getting tired of the same old same old called Bradley a "Piece of s***" and sent him home for the day before the game was over.
August 26, 2009 – Milton Bradley accuses fans of racial abuse and restaurant waiters of talking about him behind his back. I'm not making this up.  When asked for examples of racial abuse he had received he declined to comment further but said "I have to listen to the waiters bad-mouthing me at another table, sitting in a restaurant, that's what I'm talking about – everything".
Cubs fans everywhere who who cheered for Derrek Lee, Sammy Sosa, Fergie Jenkins or MR CUB Ernie Banks felt accused by the irritable outfielder.  No Milton, it's not because you're black, it's because you're terrible.
September 17, 2009 – Milton takes himself out of game without a pinch runner ready, refuses to answer reporters questions afterward, repeating: "What else ya got? What else ya got?"
September 19 2009 – Two days later Milty akes himself out of starting lineup and later refuses to pinch-hit and gets in a heated argument with hitting coach Von Joshua.  But that wasn't all.  Yet again, Milton managed to get in trouble twice in the same day.
Before the game, Bradley complained of all the "negativity" in the Cubs organization in a Daily Herald interview.  When asked if he enjoyed playing for the Cubs, he said:
"Not really. It's just not a positive environment. I need a stable, healthy, enjoyable environment. There's too many people everywhere in your face with a microphone asking the same questions repeatedly. Everything is just bashing you. You got out there and you play harder than anybody on the field and never get credit for it. It's just negativity. And you understand why they haven't won in 100 years here, because it's negative. It's what it is."
Asked whether he was talking about the fans, the media or even the Cubs organization, he replied: "It's everything. It's everybody."
Of course it is Milty.  It's always everybody except you.
The next day Milton Bradley is suspended by the Cubs and in less than three months Milton Bradley would be traded. If it hadn't been already, it was safe to say the chance the Cubs took with Milton Bradley had blown up in their face.
But hey, we got some great new stories out of it.  Bradley gave fans something to to talk about during a disappointing season. Now it's time for everybody to move on.  Goodbye And Thanks for Nothing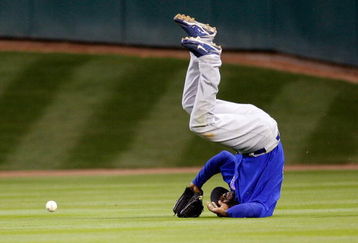 Related Stories:
Chicago Cubs Sign Milton Bradley – Delusional Cubs Fan
Chicago Cubs Trade Milton Bradley – Goodbye And Thanks for Nothing – Delusional Cubs Fan
Bradley Happy for Fresh Start in Seattle – MLB.com
Milton Bradley Can't Play Nice, Gets Sent Home by Pinella – Delusional Cubs Fan
Milton Bradley's rocky moments with Chicago Cubs – Chicago Tribune
The End of the Milton Bradley Era: A Portrait of the Player as a Young Man – Bleacher Nation

Milton Bradley ejected in Cubs debut at Wrigley Field – Chicago Tribune
Milton Bradley offers no examples of racial taunts – Chicago Tribune
Buzzkill Milton Bradley – Rosenblog
Come to Think of It: Don't Go Away Mad, Milton Bradley, Just Go Away – Bleacher Report